Roseate Spoonbill Nesting
Roseate spoonbills (Platelea ajaja) have been demonstrated to be an umbrella indicator species for Everglades restoration efforts that affect Florida Bay and metrics have been defined to assess the response of spoonbills to restoration efforts.
See the results for roseate spoonbill nesting in the Southern Coastal Systems.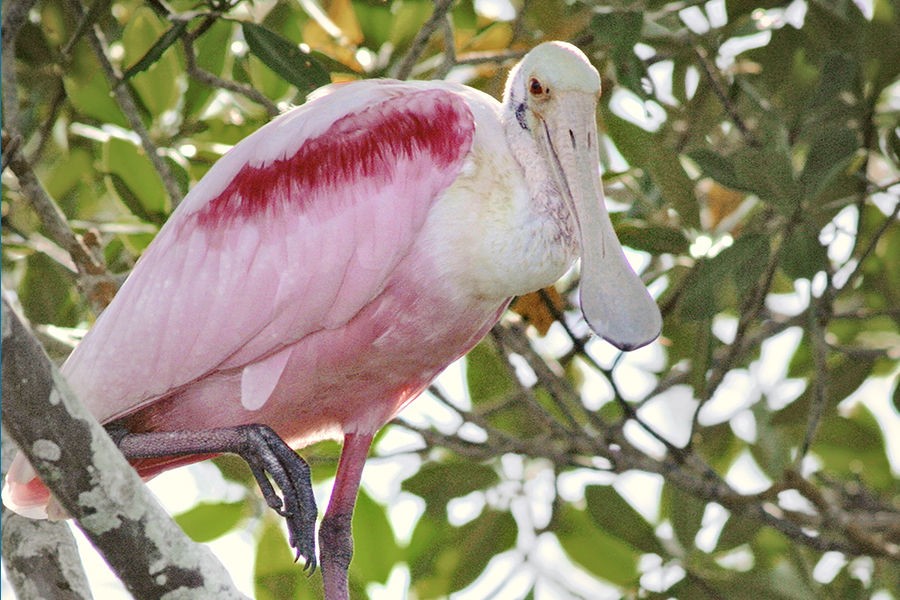 How is it measured?
This indicator is measured in the Southern Coastal Systems in the Florida Bay sub-region. The indicator metrics for spoonbills are total nest numbers for all Florida Bay and the numbers of nests, estimated nest production and nesting success for the northeastern and northwestern nesting areas of Florida Bay. 
The target for total spoonbill nests is 1258, the highest number of nests prior to completion of the SDCS. This is the average from the previous five years expressed as a percentage of 1258.
The metric for the number of nests in northeastern Florida Bay is the five-year average expressed as a percentage of 688 nests (the maximum number of nests recorded prior to SDCS completion).
The metric for the number of nests in the northwest region is also expressed as a percentage but is based on the minimum, maximum and mean of the number of nests found in the northwest region at the time the metrics were established.
Nest production is the average number of chicks produced per nest attempt (c/n) for a given year. The metric is the five year mean of these estimates and is expressed as a percentage of several thresholds (0-0.7c/n is a declining population, 0.7 to 1.0 is stable, <1.0 c/n is an increasing population and 1.38 c/n was the average production prior to completion of SDCS). The nesting success metric is simply the percentage of years out of the last 10 that spoonbills nested successfully (i.e., produced 1.0c/n or more on average).